Tucson has many pet-friendly places to visit. Whether you are looking for a new apartment to live in with your four-legged family member or you just want to get away for a day with your pal we have the ultimate pet-friendly resource for you!
Bring your dog to one of the many dogs park around Tucson!
Gene C. Reid Park Off Leash


900 S. Randolph Way Tucson

Christopher Columbus Dog Park


4600 N. Silverbell Tucson

Jacobs Dog Park


3300 N. Fairview Ave. Tucson

McDonald District Park Off-Leash Area


4100 N. Harrison Road Tucson

Brandi Fenton Park
River Rd and Dodge Blvd

Northwest Center Off-Leash Dog Park
2075 N. 6th Ave Tucson

Palo Verde Park Off-Leash Area


300 S. Mann Avenue Tucson

Udall Dog Park


7290 E. Tanque Verde Tucson

Dennis Weaver park
oro valley (n. oracle and magee)


Anamax Off-Leash Dog Park


17501 S. Camino de las Quintas Sahuarita



James D. Kreigh Dog Park

23 W Calle Concordia Oro Valley

Smiling Dog Ranch dog park at Mehl Park at River and Pontatoc Tucson
Apartments
Are you moving to out and need to find an apartment that will allow your four-legged family member? Check out our complete guide to pet-friendly apartments in Tucson and find a place that suits your needs.
Download our pet friendly apartment guide HERE >
Also check out www.ApartmentList.com the world's first apartment-matching engine. You can modify your search for just pet friendly housing on our website by checking the "Pet Policy" option from the "Advanced" tab at the top of the page!


Click HERE to see our guide to pet-friendly landlords>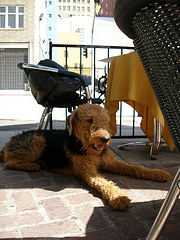 Pet Friendly Restaurants: (outdoor seating on patio)
It's always a good idea to call ahead and make sure your dog is ok to dine with you, just in case!

B
Baggin's Gourmet Sandwiches -2741 E Speedway Blvd Tucson
Bario Brewing Company 800 E. 16th St. Tucson 85701
Beyond Bread - 6260 East Speedway Boulevard Tucson
Bob Dobbs -2501 East 6th Street Tucson
Bruegger's Bagels on the patio

C
Chipotle - Foothills Mall -7555 N La Cholla Blvd Tucson
Chipotle - Grant & Swan -4774 E Grant Road Tucson
Chipotle - Park Place Mall -5870 E Broadway Blvd Tucson
Chipotle - Tucson Mall -235 W Wetmore Road Tucson
Chipotle - University Square -905 E University Blvd Unit 149 Tucson
Chopped -4205 N. Campbell Avenue Tucson
Chuy's - 7585 South Houghton Road Tucson
Coffee Loft - 3230 N Dodge Blvd
Cup Cafe (in Hotel Congress) -311 E Congress Street Tucson

D
Dakota Cafe and Catering Company -6541 E Tanque Verde Rd Tucson
Delectables -533 North 4th Avenue Tucson

E
Eegee's -4510 E Speedway Tucson
Electic Cafe -7053 East Tanque Verde Road Tucson
El Saage -1800 East Fort Lowell Road Tucson

F
Famous Sam's Restaurant and Bar -8058 North Oracle Rd Tucson

G
Garland Bistro - 119 East Speedway Boulevard, Tucson 85705
Ghini's -1803 E Prince Rd Tucson
Grimaldis -446 North Campbell Avenue Tucson


H
Honey Baked Ham -7090 N Oracle/H 77 Tucson
Honey Baked Ham -5350 E Broadway Tucson

I
India Oven -2727 North Campbell Avenue Tucson

L
Lil' Abner's Steakhouse -8500 North Silverbell Rd Tucson

M
Mama's Famous Pizza and Heros -7965 North Oracle Rd Tucson
Mr Heads - 513 N 4th Ave Tucson
N
Nimbus Brewery -3850 East 44th Street Tucson

O
Opa Restaurant on the patio

R
Ric's Cafe -5605 East River Rd Tucson
RA Sushi - 2905 East Skyline Drive, Tucson, AZ

S
Saga Restaurant and Sushi Bar -2955 E Speedway Blvd Tucson
Sausage Deli -2334 North 1st Avenue Tucson
Schlotzsky's Deli -5121 East Grant Rd Tucson
Schlotzsky's Deli -3270 East Valencia Tucson
Shish Kabob House -5855 East Broadway Boulevard Tucson
Skybar - 536 N. 4th Ave Tucson
Starbuck's on the patio

T
The Cereal Boxx -943 E University Blvd Tucson
The Eclectic Cafe - 7053 East Tanque Verde Road Tucson
Z
Zivaz -4590 East Broadway Boulevard Tucson

Pawsh at Park Place Mall
Pawsh at La Encantada Mall
PetsMart
Petco
Bed, Bath, and Beyond
Bookman's Book Stores
Barnes and Noble Book Stores
OK Feeds on the corner of Dodge and Fort Lowell
M&I Banks – they have biscuits at the windows!
St. Phillips Plaza Farmers Market
Buffalo Exchange
Paws & Claws Pet Boutique
Steinway Piano & Art Gallery of Tucson
Betty Blue's Junk Shop - 262 S. Plumber Ave Tucson
B
Best Western Catalina Inn -15691 N Oracle Road Tucson
Best Western InnSuites Tucson Foothills Hotel & Suites -6201 N Oracle Road Tucson
Best Western Royal Sun Inn & Suites -1015 N Stone Avenue Tucson

C
Comfort Suites Airport -6935 S. Tucson Blvd. Tucson
Comfort Suites at Sabino Canyon -7007 E. Tanque Verde Tucson
Comfort Suites at Tucson Mall -515 West Automall Dr Tucson
Country Inns & Suites by Carlson -7411 N Oracle Rd Tucson
Comfort Inn -90 West Esperanza Blvd Green Valley


D
Doubletree Hotel -445 S Alvernon Way Tucson

E
Econo Lodge -1136 N. Stone Ave. Tucson
H
Hawthorn Suites Ltd -7007 E Tanque Verde Rd Tucson
Hilton El Conquistador Golf & Tennis Resort -10000 N Oracle Road Tucson
Hilton Hotel -7600 East Broadway Tucson
Holiday Inn Express Tucson-Airport -2548 E. Medina Road Tucson

L
La Quinta Tucson - Airport -7001 South Tucson Boulevard Tucson
La Quinta Tucson - Downtown/Starr Pass -750 W. Starr Pass Boulevard Tucson
La Quinta Tucson - East -6404 East Broadway Tucson
La Quinta Tucson - Northwest/Marana -6020 West Hospitality Road Tucson
Lodge at Ventana Canyon - 6200 N. Clubhouse Lane Tucson
Lodge on the Desert -306 North Alvernon Way Tucson
Loews Ventana Canyon Resort -7000 North Resort Drive Tucson
La Posada Lodge and Casitas 5900 N Oracle Road Tucson


M
Motel 6 - Tucson 22nd Street -1222 Freeway Tucson
Motel 6 - Tucson Congress Street -960 Freeway Tucson
Motel 6 - Tucson Airport -1031 Benson Hwy Tucson
Motel 6 - Tucson North -4630 Ina Rd Marana

Q
Quality Inn -1025 E. Benson Highway Tucson
Quality Inn Airport -2803 E. Valencia Rd Tucson
Quality Inn -111 South La Canada Drive Green Valley


R
Ramada Foothills Inn and Suites Tucson -6944 E Tanque Verde Rd Tucson
Residence Inn Tucson -6477 E Speedway Tucson
Residence Inn Tucson Airport -2660 East Medina Road Tucson
Residence Inn Tucson Williams Centre -5400 E Williams Circle Tucson
Rodeway Inn -1248 North Stone Ave Tucson

S
Sheraton Tucson Hotel & Suites -5151 East Grant Rd. Tucson
Studio 6 - Tucson Irvington Rd -4950 Outlet Center Dr Tucson

T
The Hotel Congress -311 E Congress Street Tucson
TownePlace Suites Tucson -405 W Rudasill Road Tucson
The Big Blue House- 144 E. University Blvd. Tucson


W
Westward Look Resort -245 East Ina Road Tucson
Wild Birds Unlimited - 6546 E. Tanque Verde Rd. #150 Tucson
Windmill Suites -4250 N Campbell Avenue Tucson